The bond that links your true family is not one of blood,
but of respect and joy in each other's life.
Rarely do members of one family grow up under the same roof.
(Richard Bach)

(Right Click To Start Midi)
My Cyber Friends


Phoenix is the friend who suggested I create this anonymous website. She is a very sweet and understanding person. We became friends instantly. She is now my cybermom. =)


Starwing is a very brave person. I treasure her friendship dearly.

Guidinggirl is the star that showed me why it is important to share our stories and strengthen each other.


Silver Umbra's Haven for Anxiety/Panic Disorder Survivors has been a great source of support for my disorder. She's a wonderful person to talk to.


Though dedicated mostly to recovering alcoholics, Laura's Lee is a wonderful collection of sites for anyone recovering from the ravages of life, alcoholic or not. Though I, myself, have not suffered from distruction of substance addiction, I know that the factors that can lead to it exist in every abused person.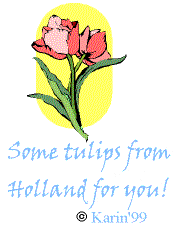 Karin's a very sweet person from Holland who sent me these wonderful tulips.


Lady Ice has a very beautiful site which is sure to make you smile. It is mainly dedicated to her mother who passed away from cancer.